Loggers Don't Make Love: A Novel
Loggers Don't Make Love is a tricky deftly written mystery with a narrator that could coax you into a barrel above Niagra falls. Author Dave Rowan paints a true picture of the rough and tumble life in a logging camp on the Olympic Peninsula. The mystery isn't over when the story ends. Reading the prologue reveals the cleverness the author had when penning this thriller.
—James Sweeney, author of A Thousand Prayers: Alaska Climbing Expedition, Marine Life Solidarity and The List
It's the waning days of old growth logging on the Olympic Peninsula, and Dave Rowan's Knucklehead is one of a group of raucous loggers. Knucklehead relates a fast-paced tale in a strong voice of friendship, love, death, and murder amongst the big trees. No one escapes unscathed, and in the end, Knucklehead concludes "perhaps just recognizing our karma during one lifetime will help us get rid of it in the next one."
—Doug Pope, Author of The Way to Gaamaak Cove
Loggers Don't Make Love, a stunning debut novella by a former NW logger, Dave Rowan, defies a literary pigeon-hole. Glorious first-growth NW forests—wild and free and lovely—seep their wildness and more into the loggers who harvest them in the US '70s, and the women who love them. Throw in a murder mystery and you have a feast that is good-to-the-last-surprising-drop.
—Kerry Dean Feldman, author of Alice's Trading Post: A Novel of the West and Drunk on Love: Twelve Stories to Savor Responsibly
Also Available on IngramSpark
Cirque Press Author — Dave Rowan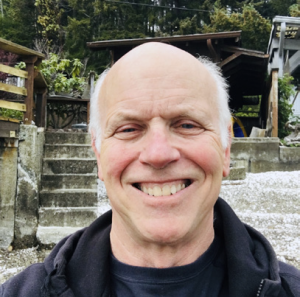 Dave Rowan was born and raised in Seattle. After graduating from West Seattle High School, he entered The United States Air Force Academy but did not graduate. His experiences there inspired him to become a writer though, and subsequently, he earned a degree in English from the University of Puget Sound, where he also played football. Years later, he received another degree in Civil Engineering from the University of Washington, but in between going to college, he worked in the woods for eight seasons as a logger on the Olympic Peninsula. Dave penned the first draft of Loggers Don't Make Love in 1980/81 and finished the book in 2020 after retiring from Seattle City Light.
During the spotted owl crisis, Rowan free-lanced articles about the woods to Northwest Edition, The Seattle Post Intelligencer, Seattle Weekly and Pacific Magazine of The Seattle Times. Next, he explored a bicycle route around the Olympics utilizing old logging roads and self-published a guidebook titled Around the Edge of the Olympics on a Mountain Bike. Currently, he is editing his first novel, which is about the Air Force Academy.